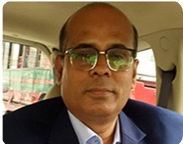 জনাব শাহ্ মোহাম্মদ নাছিম, এনডিসি
অতিরিক্ত সচিব
Shah Muhammad Nasim is now currently serving as Chairman, Bangladesh Jute Mills Corporation (BJMC) under Ministry of Textiles & Jute. He joined BJMC on 24 December 2018. Bangladesh Jute Mills Corporation is a public corporation that owns and manages all government jute mills in Bangladesh and is located in Dhaka. BJMC has now 29 Jute Mills under its ownership. BJMC is one of the oldest & biggest public organizations in Bangladesh. As Chairman of BJMC, Mr. Nasim is engaged in overcoming various challenges of jute production, jute marketing as well as marketing of jute goods in local market and foreign market vis-à-vis facing competition from more than 200 private sector Jute Mills in Bangladesh as well as competition from jute and jute goods producing countries of the world. From his joining in BJMC, he has been striving for searching and opening of new markets in the international level for Bangladeshi jute goods keeping in consideration of potential demand for environment-friendly poly bags by replacing plastic and polythene bags in the local and International markets.
Project Director, NATP-2 Project under Ministry of Agriculture
Shah Muhammad Nasim served as Project Director of National Agricultural Technology Program Phase-II (NATP-2) project under the Ministry of Agriculture, Government of Bangladesh from January 2017. This was a multi-agency and the biggest project of Ministry of Agriculture in Bangladesh with partnership of Ministry of Fisheries and Livestock (MOFL) and the estimated project cost is TK.1878 crore funded by World Bank/IDA, IFAD, USAID and GoB for six years' period from FY 2015-16 to 2020-21. The World Bank has rated the NATP as a flagship project of Agriculture sector in Bangladesh. As Project Director of NATP-2 Project, Mr. Nasim has been rigorously engaged with multi-dimensional activities of coordination, communication, implementation, reporting, RPA fund claim submission, Fund disbursement among PIUs, Record of Accounts keeping, Training and Workshop, meeting arrangement of various committee(s) and so on in consultation and cooperation with the MOA, MOFL, World Bank, IFAD, USAID, PIU-BARC, PIU-DAE, PIU-DoF, PIU-DLS and other stakeholders. He has been playing his role as 'bridge of communication' among the GOB and funding agencies. As Project Director of NATP-2 Project, he has been engaged in gathering and sharing various knowledge and updated wisdom of modern Agriculture-Technology and ICT & Renewable Energy based Technology for adoption and application through farmer's community in order to attain the visionary goals of NATP Project in Bangladesh.
Personal & Academic Background
He was born in Comilla on 01 January 1963. He did his graduation and post graduation, that is, Bachelor of Commerce (B.Com. honours in Marketing in 1983) and Master degree (M.Com. Marketing in 1984-First Class) from the Department of Marketing, University of Dhaka with distinction. He has also acquired another Master of Strategy and Development Studies (MSDS) degree Certificate from the Bangladesh University of Professionals (BUP), Dhaka with CGPA 3.69 (Grade A) to his credit while undergoing ND Course 2016.
Career Descriptions
Before joining the civil service, he served as Senior Officer in the Investment Corporation of Bangladesh (ICB) and earned experience of investment banking. Then he joined in the Bangladesh Civil Service (Administration) Cadre on 15 February 1988. Initially he worked as Assistant Commissioner and Magistrate in Serajgonj District Collectorate. Then he performed as Assistant Commissioner (Finance) as well as Magistrate in Shahjadpur Upazilla of Serajgonj district. He served as Senior Assistant Secretary in the Ministry of Labour and Manpower, Ministry of Agriculture, Ministry of Public Administration. He served as Deputy Director & then Director in NGO Affairs Bureau under the Prime Minister's Office for five years. He got an opportunity to serve as a Project Director in a development project namely Establishment of Regional Centre of Bangladesh Institute of Administration & Management (BIAM) Foundation at Cox's Bazar under the Ministry of Public Administration for more than three years.
As First Secretary in Bangladesh Embassy, Tehran, IR Iran
Before assuming the responsibility of Upazilla Nirbahi Officer (UNO) at Jamalgonj Upazilla (Sub-district) of Sunamgonj district, Mr. Nasim had an opportunity to serve in the Embassy of Bangladesh in Tehran, IR Iran as First Secretary (of Labour Wing) for five years from 1996 to 2001. During his service tenure in Iran, he also served as acting Commercial Counsellor around one year and looked after the welfare services of the Bangladeshi professionals (Medical Doctors, Marine Engineers), workers, migrants & Bangladeshi community living in Iran, Lebanon & Syria.
As Joint Secretary
Having been promoted to Joint Secretary of the Government of Bangladesh on 18 July 2013, Mr. Shah Muhammad Nasim served in the Ministry of Home Affairs for two and a half years and dealt with the matters of immigration, security, jail administration and law issues before joining NDC 2016.
As a Fellow of NDC 2016 gained knowledge & experience
Before joining the Ministry of Agriculture, Mr. Nasim underwent 11 months long National Defence Course (NDC) 2016 under the world renowned and prestigious National Defence College Bangladesh at Mirpur Cantonment, Dhaka. He got his promotion to the present position and rank of Additional Secretary from Joint Secretary on 12 May 2016 while undergoing ND Course 2016. Mr. Nasim gained comprehensive knowledge from the four thematic area of eleven months long ND course curriculum such as:
Study-1: The Socio-Political Environment of Bangladesh
Study-2: Economy and Development
Study-3: International Politics, Global Issues, Regional and Country Studies and
Study-4: National Security of Bangladesh
He gained a unique, ever changing and challenging nature of global, multilateral, bilateral partnership issues/relations and inter-country or intra-country conflicts, negotiations for conflict resolutions mechanisms in so far as national interest is concerned. He gained the knowledge of necessity of knowing the historically emerging legacy and importance of foreign relations vis-à-vis economic-cultural-diplomacy for win-win benefits amongst the neighbouring countries and various countries of the world and how foreign policy could be a very pivotal role player in achieving national short, medium and long term goals and objectives.
He gained new knowledge on the importance and influence of geo-politics, geo-economics and geo-strategy in shaping the world order among the powerful COUNTRIES of the world. He also gained the implications of soft and hard power's role in achieving foreign policy objectives vis-à-vis national objectives.
He actively participated in the following seminars on contemporary issues during NDC 2016 such as:
Foreign Policy of Bangladesh: Roadmap for Realization of Vision 2041;
Sustainable Development of Bangladesh: Balancing Industrialization, Urbanization & Green Environment;
Rural Development: Challenges and Prospects for Bangladesh;
Cyber Security Issues in Bangladesh.
Training in Home and Abroad
During his long 30 years of civil service career Mr. Shah Muhammad Nasim participated in different training courses at home and abroad. He completed Bangladesh Military Academy orientation Course at BMA Chittagong. He completed Civil Service Foundation Training Course (9thSF), Advanced Course on Administration and Development (78th ACAD) and Senior Staff Course (69th SSC) from Bangladesh Public Administration Training Centre (BPATC). He attended Planning and Project Management Course (PPM/1994), Public Procurement Course. He completed MATT-2 Development Management Programme (Managing At The Top-funded by DFID in 2010) from BPATC and attended project management course in Singapore Civil Service College as well. He had the opportunity to participate as part of Regional Exposure Visits in Beijing Administrative College, China and National Academy of Public Administration, Hanoi, Viet Nam.
Mr. Nasim also underwent the following foreign and local trainings: Japan-South Asian Friendship Program for the 21st century (JICA), TOT on Local Govt. Institutions in Bangladesh, Public Procurement Act/Rules, Planning and Project Management, Land Survey & Settlement, Law & Administration, Rural Development & Poverty Reduction. He also attended various training programmes/workshops/study tours in countries like Japan, Iran, China(thrice), Malaysia(thrice), Singapore, SriLanka(twice), Geneva/Switzerland, Bangkok/Thailand(Thrice), Saudi Arabia, Vietnam (Hanoi), Egypt, Germany, UAE (Abudhabi/Dubai), Doha /Qatar, India, South Africa, Philippines, Vietnam (Ho Chi Minh City), and North Carolina, Washington of USA during his thirty one years of civil service career.
With the sponsorship of Ministry of Public Administration, GOB, Mr. Nasim participated in a training course on Strengthening Government through Capacity Development of the BCS Cadre Officials: Public Policy, Service Delivery and Negotiations at the Duke Center for International Development (DCID), Sanford School of Public Policy under Duke University of North Carolina, USA from 15-27 May, 2018. During the course, Mr. Nasim presented comprehensive policy suggestions on "Blue Economy for Bangladesh" as a leader of a group in DCID on 26 May 2018 in front of the audiences of DCID faculty members and 44 Additional Secretaries of GOB.
Seminars & Workshops attended
As Project Director of NATP-2, he attended the following seminars/workshops:
Mr. Nasim participated in the Asia Pacific Regional Workshop held in Jogyakarta, Indonesia between 18-19 October 2018 organized by IFAD under the title Inclusive and Sustainable Rural Transformation- IFAD's priorities in Asia and the Pacific 2019-2021.
As a Team Leader Mr. Shah Muhammad Nasim presented a seminar paper on "Changing Role of Government for Development" as a part of Duke University's DCID course (held in May 2018, USA for Additional Secretaries Group) in a Feedback Seminar for Training Effectiveness organized by Ministry of Public Administration on 12 September 2018 at BIAM Foundation, Dhaka.
Led an Agricultural Study Team to Philippines and Vietnam on the "Advanced Technologies of Increasing Productivity and Value Addition in Agricultural Commodities in Vietnam and the Philippines" sponsored by NATP-2 Project from 29 April – 10 May 2018
He attended in the International Conference of World Bank/InfoDev sponsored Climate Business Innovation Network (CBIN), 2018 held between 12-15 March, 2018 in Pretoria, South Africa.
On the sideline of CBIN 2018 Conference, Mr. Nasim also attended two days long (13-14 March 2018) SEED South Africa Symposium on Boosting Climate-Smart Enterprise Solutions and Boosting Climate-Water Smart Entrepreneurial Solutions held in Pretoria, South Africa.
Mr. Nasim visited India and led a Study Tour Team comprising MOA, MOFL, IMED, PIU-DAE, BARI representatives from 11-20 February 2018 to gain knowledge and experience of Indian innovative agricultural technologies.
Seminar on Strength, Opportunity, Challenges and Strategies of Ministry of Agriculture for Achieving Sustainable Development Goals (SDGs)-(June 2017)
He attended Financial Management Clinic Workshop organized by the World Bank in Dhaka in 2017.
He attended in a Training Program of World Bank on Systematic Tracking of Exchanges in Procurement (STEP) system and Client Connection System of World Bank for Project Aid fund receiving and submission of SOEs of all components of NATP-2 Project in order to get RPA from the World Bank through submission of Withdrawal Applications.
Consultation Workshop on Rice and Wheat Blast Management in Bangladesh (May 2017)
He also attended some seminars/workshop/meeting on Agricultural Sector of Bangladesh organized by World Bank, IFAD, USAID, SAARC-IC,BARC, DAE, DLS & DoF during the tenure of Project Director, NATP-2 Project
An international seminar representing GoB on the Capacity Building of NGOs for Developing Countries in Fuzhou city of China;
Food Security of D-8 Countries by representing GoB in Iran;
International Workshop on Disaster Preparedness organized by DIPECHO;
Health Economics at Global Fund Head Quarters at Geneva;
Prevention of NPOs from Terrorist Financing in Sri Lanka;
Led Bangladesh Team in the international workshop on "Economics of Terror-- Understanding the sources and movement of Terrorist Financing" organized by DOJ/US at Bangkok, Thailand(01 June-05 June/2015);
Participated in an International Workshop namely, 'Health Economics and new funding policy and management" organized and sponsored by The Global Fund (TGF), Geneva Head Quarters;
Participated in the International Conference (03 days)on International Conference on South-South and Triangular Cooperation in the Post -2015 Development Agenda Financing for Development in the South and Technology Transfer held in Dhaka;
Represented NGO Affairs Bureau in Local Consultative Group (LCG) in Bangladesh;
Participated workshop on Third Mutual Evaluation on Asia Pacific Group on Money Laundering and Terrorist Financing held at Dhaka;
He participated in the Bangladesh Development Forum 2015, held between 15-16 November,2015 at Dhaka;
Participated in the Government-led Working Group meeting (23 Nov'15) to prepare draft policy and operational documents for the National Justice Coordination Committee sponsored/organized by UNDP, Dhaka;
Played important role as representative of Ministry of Home Affairs in formulating Bangladesh Overseas Employment Policy.
Negotiation Skills gained
He played active role as a member of GOB Team in the negotiation process with the Team of Global Fund Head Quarters, Geneva, Switzerland for ensuring Global Fund flow to Bangladesh to continue Aids, Tuberculosis & Malaria (GFATM) Prevention programs in 2014. He also acquired knowledge & skill on bilateral negotiations during his stay in Tehran, Iran as First Secretary of Bangladesh Embassy. He had an opportunity to actively participate in the Hajj Administrative Team formed by the Ministry of Religious Affairs in 2014 and participated in the negotiation meetings with the Saudi Airlines authority. Mr. Nasim played very important role as representative of NGO Affairs Bureau in negotiation and presentation of NGO sector of Bangladesh during the visits of UN Team and Asia Pacific Group (APG) Team on Money Laundering and Terrorist Financing Issues in Bangladesh which visits were coordinated by the Ministry of Foreign Affairs and Bangladesh Bank.
Other Skills
During the last 30 years of his career, Mr. Nasim gained various event management and crisis management knowledge & skills through dispensation of assigned duties ranging from protocol duty of VVIPs, VIPs, international ceremony, organizing bi-lateral & multi-lateral negotiation meetings between GOB Team and counter-parts to the disaster & crisis management at the field level administration and thereby he acquired self-confidence and experiential wisdom to resolve socio-economic problems or overcome challenges what-so-ever. He has the unique capacity to handle human related disputes through peaceful negotiation mechanisms as well.
Research papers & Articles
He did some research works on Marketing during his university study time. He worked as a team leader on a study of 360 degree performance appraisal system in government organization (MATT Course), prepared and presented seminar paper on Blue Economy for Bangladesh at BPATC in 69th Senior Staff Course, and presented experiential learning presentation on Viet Nam Administrative System. He completed a research work on Money Laundering and its impact on Bangladesh economy in NDC 2016 as Individual Research Project (IRP). He also did research work in a Group Research Project (GRP) on GRP on "Political Transition of Myanmar and Its Effect on Regional Security-Myanmar's Future as a Democratic Country" as a group research project assignment. He wrote an article on the 'Experiences learned from the NDC 2016 as well.
As resource Person
Mr. Nasim has also been engaged from time to time in various Civil Service/NGOs/Bank/Govt. training academies as a 'resource person' on various topics such as Development Administration, Development Planning & Project Management Issues in Bangladesh, Public Procurement Policy and ACT/Rules thereof in Bangladesh, Public-Private Partnership (PPP) in Bangladesh, GO-NGO Relations for Development in Bangladesh, NGOs' impact on economic, political, and security aspects in Bangladesh, Environment and Disaster Management, Foreign Policy of Bangladesh, Globalization impact on Bangladesh, Leadership and Management in Bank, Foreign Tour & Foreign Employment Policy in Bangladesh, Multilateral Agreements, Migration Issues, MDGs & SDGs and so on.
Members of various Associations/Platforms
Mr. Shah Muhammad Nasim is also engaged in various social activities through active participation in the following social organizations/platforms: 1) Bangladesh Administrative Service Association 2) Dhaka University Marketing Alumni Association 3) Managing At The Top(MATT) Alumni Association 4) JICA Alumni Association of Bangladesh 5) Comilla Victoria College Alumni Association 6) Comilla Zilla School Alumni Association 7) Comilla Modern School Alumni Association 8) LinkedIn Professional Network 9) Facebook Social Network 10) Twitter Social Network
His hobby is travelling, reading books, internet browsing, social networking and listening to music.